BIOG

Design & Creative Direction
Over the past 10 years as a design practitioner, Tomas has worked with a number of London's cultural institutions and commercial clients on a broad range of projects including visual identities, posters, editorial, exhibition design, digital design for online platforms and motion graphics. Tomas's practice focuses on typography, vivid imagery and a process driven approach that embraces simplicity and impact.
Interested in comissions, freelance work and collaborations.
Full design portfolio and CV on request.
Get in touch
Video, Installation & Performance
Since graduating from Royal College of Art in 2016, Tomas's practice has taken a new path into audio-visual work. Using the medium of video and sound, he creates installation work, live performances, and short experimental films.
Through his work Tomas explores the synergy of visual, sound and space and is interested in the concepts of extremes, such as noise and stillness. His work is largely abstract and experiential, encouraging discussion and personal interpretation rather than a predetermined meaning.
Tomas uses analogue video and audio hardware machines, which are carefully selected in order to create a very specific signature aesthetic.
*All installation and video work on this website is available for exhibitions. Rated X project is open to bookings and is suitable for festivals, galleries, cinemas, nightclubs and small theatres.
© 2020 Tomas Jefanovas. All rights reserved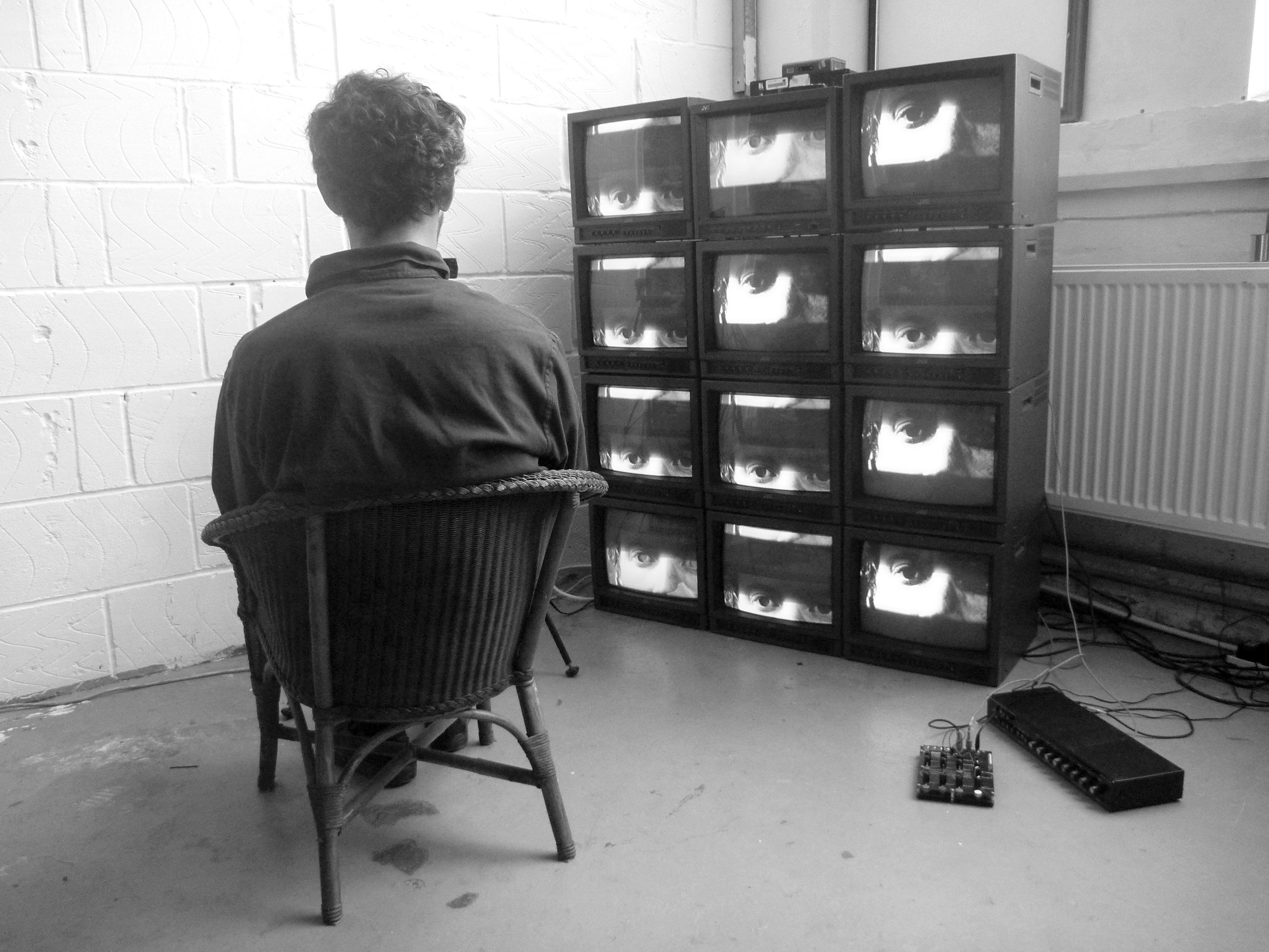 Exhibitions / Installations
2019 Video Noise Trolley, video installation at Hackney Wicked Festival
2018 Video Noise Trolley, window installation at VFD
2017 Personal Space, window installation at VFD
2016 Designjunction: Dyslexic Design at London Design Festival
2016 Margate Arts Club at Margate Festival, Margate
2016 SHOW 2016 at RCA, London
2016 Work in Progress at RCA, London
2015 Green at 71a London Gallery, London
2015 #31 Annual Open at CGP Gallery, London
2015 Isle of Lost and Found at Hockney Gallery, RCA, London
Live Performances
2019 Live visuals w/ MF Tomlinson, Moth Club, London
2019 Live visuals w/ MF Tomlinson, The Lexington, London
2019 AV showcase & DJ set w/ Inês Neto dos Santos, Guest Projects, London
2019 Live visuals, Audio-Visual Night #3, New River Studios, London
2018 RATED X, Rio Cinema, London
2018 RATED X, Bootleg Social, Blackpool, UK
2018 RATED X, The Yard Theatre, NOW18 Festival, London
2017 Live visuals, Field Day, Bugged Out stage
2016 Live visuals, Audio-Visual Night #1, New River Studios, London
2016 Live AV performance w/ Tasos Stamou, Margate Arts Club
2016 Live visuals, Akys Stacios Ausys Placios Festival, Lithuania
2015–2016 Live visuals, London Loft Party, London
Screenings
2017 Alpha Untitled, screening at Houghton Festival
2017 Busy, screening at Margate Art Club, part of Margate Pride